Brandon Haefele, CEO and President of Catalyst Mortgage
Bidding wars, record-high home prices and equity-rich homeowners are grabbing headlines – and causing some consumers to feel as though they will never be able to buy a home, which is often the most effective way to build generational wealth.
Currently, about two out of every five households can afford to buy a home in the Sacramento region, according to the California Association of Realtors. While that may seem low, it's actually double the affordability rate of the Bay Area – and more than 10 percentage points higher than the rest of the state.
Despite the fast-rising home prices, Sacramento remains one of the most affordable markets in the state. No wonder the four-county region is one of the hottest housing markets in the nation – and a popular destination for Bay Area folks.
Even with the latest challenges – more competition, record-high home prices and a lot fewer homes for sale than in the past – many home-shoppers can make their dream of homeownership a reality. We're going to tell you the first steps to buying (and financing) a home – and why you should consider homeownership.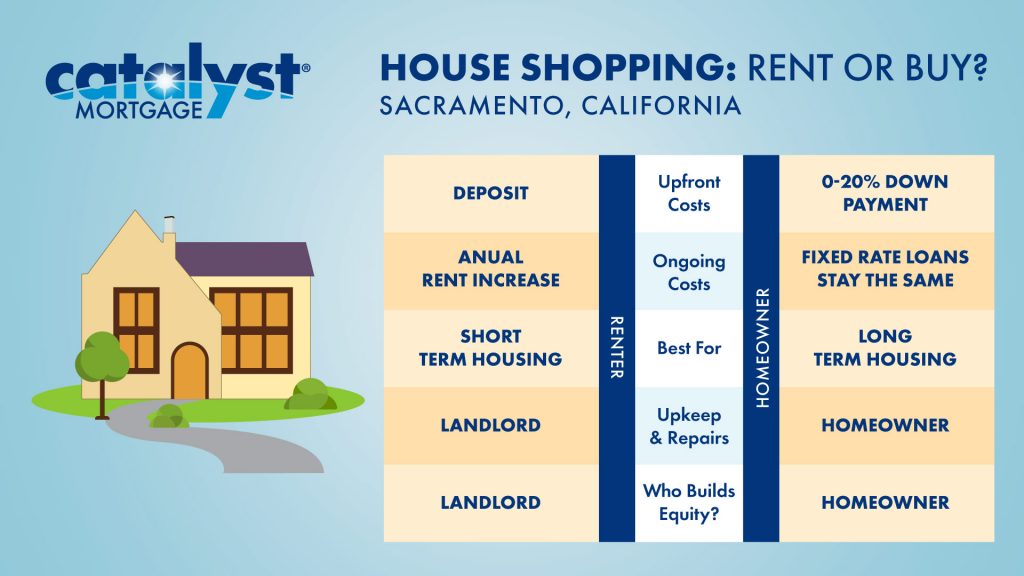 First, Should You Keep Paying Rent or Purchase a Home?
Every homeowner's situation is different, but if you are planning to stay in the region for more than a couple years, many consumers should consider buying a home.
The booming demand for homes, in part because of the COVID-19 pandemic, has increased home prices more than 20% during the past year to a record $500,000 in Sacramento County compared to almost $665,000 in Placer County, according to the California Association of Realtors.
But guess what? Rent for two-bedroom apartments are up 15% to $1,840 in the Sacramento region, according to industry tracker Zumper.
So, rent for a two-bedroom apartment is almost as much as a mortgage payment for the median-priced home with a 20% down payment.
Of course, homeownership has some additional costs compared to renting – like property tax and maintenance – but there are also financial benefits, such as the mortgage deduction on your taxes, which can really add up and be part of a long-term financial plan. Property taxes can also often be deducted from your taxes, depending on your income.
But perhaps the best reason to buy is building equity – and creating wealth.
If necessary, you can tap equity in your home to pay off credit-card debt, fund a home-improvement project, or even help a child with college tuition. And if you never tap into the equity and pay off the mortgage, well, you will live mortgage-free and enjoy extra money every month.
Finally, if you have a fixed-rate mortgage, your monthly payment will stay the same during the life of the loan – and hopefully your income will increase, making the mortgage payments even more affordable in the future.
Homeownership is much better than the uncertainty of rent hikes as a renter. Plus, if you're renting a single-family home, the owner could decide to sell, leaving you looking for another house, sometimes with little time.
Don't Play the Waiting Game to Time the Market
So why buy now and not later? Some would-be buyers are holding off because they expect – or are hoping for – prices to fall.
In some ways, it makes sense, especially for those who experienced the housing meltdown during the Great Recession, when the value of homes plummeted 50% in the Sacramento region (from about $395,000 in August 2005 to $190,000 in August 2010).
But the housing market of today is much different than the boom-to-bust situation a decade ago. First, the housing crisis was brought on by mortgage lenders approving loans with little scrutiny of the financial situation of homebuyers (thus the term "no-doc loans") and even offering interest-only loans for the first few years.
Today, lending requirements are tougher – yes, the mortgage application requires more paperwork than in the past – but the demand for housing is rock-solid. California needs at least 2.5 million more homes to meet the demand for housing, and we are nowhere close to that goal. Plus, there are far fewer homes on the market now than in recent years.
Finally, mortgage rates are at a record-low, falling again below 3% for a 30-year mortgage in early July. The record-low rates are helping offset the record home prices, especially if your home increases in value while your mortgage payment remains the same down the road.
Something to consider: The average California homeowner gained about $70,000 in equity during the first quarter of 2021 compared to a year earlier, according to CoreLogic. That's almost as much as the average household earns every year in California ($75,000).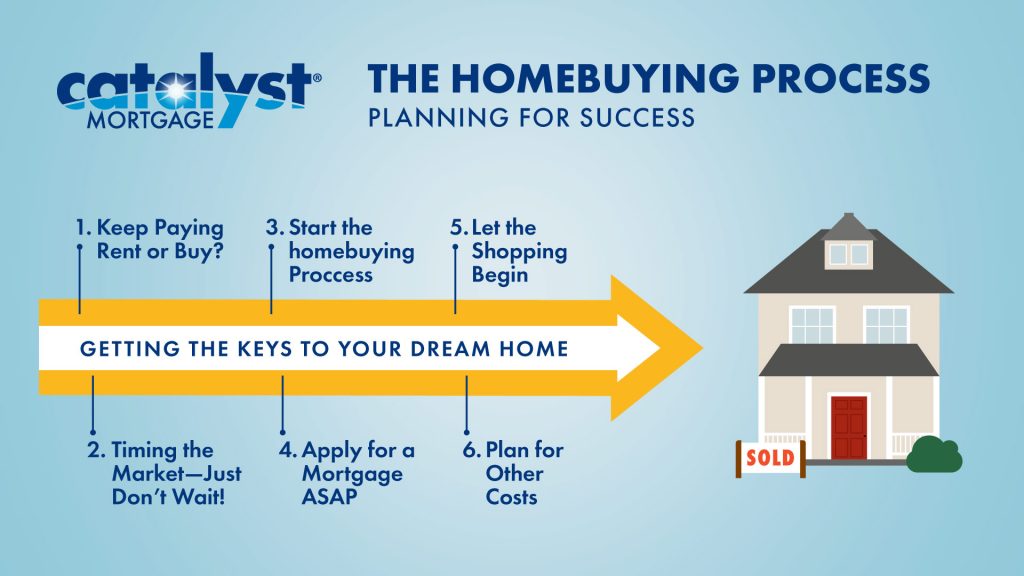 Starting the Homebuying Process
Let's be honest, the homebuying process is not easy. It takes patience, time and paperwork. But the benefits are many, from building equity to enjoying those backyard get-togethers with family and friends to fun (and sometimes frustrating) home-improvement projects.
You're also not alone in your quest of becoming a homeowner. Your mortgage professional and Realtor will be there every step of the way. (We will talk about the mortgage process a little later.)
But first you need to be honest about your financial situation – such as your credit score, debt, income – and how much home you can comfortably afford.
Most importantly, how much of a down payment can you pull together?
The bigger the down payment, the smaller the mortgage – and the monthly payment. Determine how much money you can put down on the mortgage while also leaving some funds in case of an emergency, like for a car repair or a health issue. Maybe you have enough money for the down payment now, or perhaps you need to save more and purchase in a year or two.
Here are a couple of clever ways to generate some more money for the down payment:
Cut back on your living costs: Fewer Starbucks runs. Buy generic brands at the grocery store. Join the many cutting the cable cord. Review all of your monthly subscriptions, such as the gym and streaming services, and cancel those you don't need.
Skip the big vacation this year: Yeah, it's hard, but you can save a few thousand dollars from passing on the vacation. Or at least scale back on the vacation.
If you rent and have the space, consider getting a roommate: Sharing rent and utilities can help lower your monthly costs – and help you save thousands of dollars in a year. Of course, make sure to check the potential roommate out and ensure that you are comfortable with the situation.
Get a side hustle: Lyft, Uber or food delivery may be what you're thinking. But remember there are some additional costs to consider – like gas and wear-and-tear on your vehicle. What about dog-sitting or house watching for coworkers or friends? Or a part-time gig with a retailer or at a local restaurant? (We hear many are looking for employees.)
Getting a pay raise this year? Don't spend those dollars, put that money towards the down payment. You've already made other sacrifices to reduce spending, so this should be easy – and help boost the savings for the down payment.
You may feel like these efforts aren't enough, especially since the average down payment in the Sacramento region is about $60,0000 (12%), according to ATTOM Data Solutions.
But remember many buyers have much smaller down payments and there are mortgage-assistance programs for first-time, low to middle-income homebuyers, such as through the California Housing Finance Agency (CalHFA) and the VA. The household income limit for CalHFA is $180,000 for the Sacramento region – about 2.5 times more than the median household income. Your mortgage broker can check if you qualify for such programs.
Apply for the Mortgage as Soon as Possible
Wait, apply for the mortgage and get pre-approved before shopping for a home? Times have changed, and you have very little of it with the current housing market.
You need to be pre-approved and know how much home you can afford, which will help you determine your price range – and, in essence, the neighborhoods where you should start the home search.
The mortgage application is often the most-overlooked step in the homebuying process. Do your homework. Check out the mortgage rates but also closely look at the fees.
Ask family members and friends for recommendations, look online at reviews of mortgage companies.
Then, meet with the mortgage professional. Ask questions. And, most importantly, understand the fees and the mortgage application process. If you have a question, make sure the mortgage professional can answer them in a way that you understand. Otherwise, it's time to look for another mortgage lender.
Bottom line: You're buying a house – likely the biggest investment of your lifetime – not a bean bag chair.
If all looks good, you will get pre-qualified (your creditworthiness based on your income, assets, and debt) and then, hopefully, pre-approved for a mortgage. Now you know your budget and how much house you can afford, and where you should look.
Let the Shopping Begin—How Timing is Everything
OK, go put on some comfortable shoes. Ready, set, go!
Today's housing market is like a fast-paced sprint, complete with bidding wars and multiple offers. So, that is why you need to get pre-approved for the mortgage. Now you know how much you can afford and can tailor your house-hunting to neighborhoods (and homes) in that price range. Sure, living in the Fab 40s is great, but Tahoe Park may be more in your price range.
Again, with the current market, there is no time to begin looking at homes and then applying for a mortgage.
Find a Realtor who is an expert and knows the neighborhoods you're interested in. A great Realtor will eliminate headaches and save you a ton of time. Also, check out online listings, like Redfin or Zillow, which can help with the search. (Hey, your Realtor could miss a home for sale that you find at 3 a.m. while watching a movie on Netflix.)
Found your dream home – the one that you can afford and imagine making your place? Then, what are you waiting for? Make the offer!
Your Realtor will walk you through the offer process, and will likely provide some helpful tips to make your offer standout, especially important with the competition for homes these days:
Cash is often king, but only 15%-20% of homes are all-cash deals. So, for the rest of us, a bigger down payment – for example increasing from 15% to 30% – would likely attract more attention. Of course, only if a bigger down payment is possible. Again, don't create a financial hardship for yourself.

Write a letter to the homeowners, listing the things you love about their house (everyone likes compliments and a connection).

If possible, reduce the time frame on the inspection, appraisal and loans. Be flexible on the closing date (the homeowners may be buying another home as well).

When you make an offer, don't haggle over relatively minor repairs like a cracked window or chipped tile. However, DO NOT ignore major repairs, like a broken air conditioner or damaged roof.
Don't Forget About the Other Costs of Homeownership
Buying a home is a big accomplishment – and a huge investment. But sometimes giddy homeowners overlook other costs of homeownership, such as:
If you buy a home in a neighborhood with a homeowners' association (HOA), consider the monthly cost. Sometimes it can be less than $25 a month, while other HOAs are several hundred dollars.

You will need to set aside some money for repairs. Ask any homeowner, and they will say things happen – and never at a good time. A broken garbage disposal, a leaky water heater or a garage door that comes off the track and bends like a soda can. A good rule of thumb is to set aside about $1 to $2 per square foot – or about $170 per month for a 2,000 square-foot home. Of course, repairs and the costs depend on the age and condition of the house.

If you have ambitious plans to buy and then do some home-improvement projects, remember the cost will likely be much more than you planned – and probably take more time than you want. For example, replacing an entry door can cost $2,000, while replacing windows can top $22,000, according to Remodeling magazine's West Coast report.
Congratulations!
Now, you are ready to begin the homebuying process. It requires some hard work, persistence and, of course, time. But, as most homeowners will tell you, it's definitely worth the effort and investment.
Get Started Today! Give us a call at 916.655.2204